The best thing about having friends who bake is that they often are at the ready when I ask "Do you have something good I can make? I'm not inspired."
And if you have a friend like Lisa, she will say "Boom goes the dynamite!"* and have one ready for you.
So, she made them recently and gave me the recipe as a great "take to work" kind of treat. She said her mom used to make them and moms make the best food, so I'm inclined to go with it.
Lisa's Mom's Toffee Cookie Bars
Toffee Bars
1c. Butter of Margerine
1c. brown sugar (light or dark, I used dark)
1tsp. vanilla
1 egg yolk
2c. flour
1/2tsp.
1 bag of chocolate chips (less or more, depending on taste)
1/2c-1c. chopped nuts (walnuts, pecans, pistachios)
Step 1. Set oven to 350 degrees. Spray or grease a 9"x13" baking dish (glass or metal) and set aside.
I figured no one needed a picture of this. Though, that said, I always line with tin foil to make cleanup easier, because though I like to bake, I'm lazy at heart and I don't have a dishwasher.
Step 1. Combine the flour and salt in small bowl, set aside.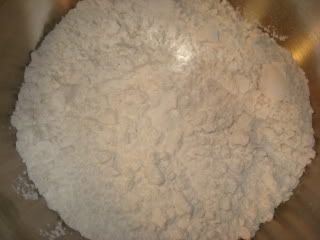 Ok, this is the fairly easy part. I can do this. A w(h)isk works best.
Step 2. In a larger bowl, mix the butter, sugar and vanilla until creamy. Add egg yolk, mix well.
At first your mixture will look pretty good when you've beaten it into submission.
But once you add the egg and vanilla, it will get runny so mix for a while 'til it firms up. Also, I always, always suggest adding a little more vanilla than is listed in the mixture. I know, I know, baking and science and exactness and all but vanilla is awesome and should be highlighted in all recipes.
Step 3. Add flour mixture until fully combined.
Lisa's instructions say:
At first, the dough is really crumbly,
and she is correct.
but turn up the speed on the mixer and it will get more thick/heavy.
and she is again, also, correct.
I also added some Reese's Pieces because a) they're awesome, b) I don't use nuts in my desserts and c) I didn't want to eat them straight out of the bag.
Step. 3.5. Lick the beater.
Step 4. Press dough evenly into pan and bake for about 20-25 min.
You don't want the dough to be browned, but lightly tan when it comes out.
Step 5. Pour chips on dough and spread melted chips with knife or spatula.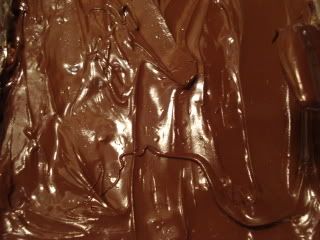 I used to think this part, which, once you've cooled it gives it the hard chocolate shell, was really impressive and hard to do. [Lee Corso]: Not so fast my friend. [/Lee Corso]
When you first take the pan out of the oven, pour the bag of chips on top straight away. The heat from the cookie bars will melt the chocolate and allow you to spread it evenly over the top. Last time I tried to do this I melted the chocolate first, which is completely unnecessary; this way works just as well.
After that, just let it cool and cut into whatever size bar you choose. Store in airtight container. Will last for a week ... depending on how many cookie monsters live in your house.
Conclusion
: Pretty good, but I found them to be a little flour-y which might mean that I didn't measure the flour well enough, or that it might have only needed 1 3/4 cups of flour or such. I'd probably also add some peanut butter or caramel (and cinnamon) if I were to do them again.
* - May not exactly be what she said.