In case you haven't noticed, I'm on quite a butterscotch kick. Seriously, that stuff tastes fantastic. So when I saw
Lisa
share this receipe, I knew I had to make it.
And what better reason than it's Thursday?
Peanut Butter Blondies with Butterscotch Ganache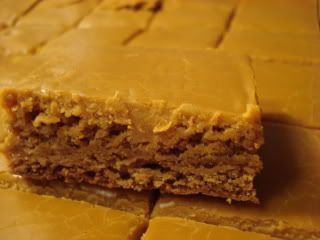 Blondies:
3/4 cup peanut butter
3/4 cup salted butter, at room temperature
3/4 cup brown sugar
1/2 cup white sugar
2 eggs
1 tablespoon vanilla
1 1/2 cups flour
1 1/2 teaspoons baking powder
1/2 teaspoon baking soda
Ganache:
1 cup butterscotch chips
3 tablespoons cream
Note: These ingredients will get you a 9x13's pan worth of blondies. Want a
jelly roll pan's
worth? Double the recipe.
Step 1. Preheat oven to 325 degrees Fahrenheit. Line a 9-inch x 13-inch pan with parchment, creasing the corners so that they lie flat. Set aside.
Oh, this is totally going to be easy.
Step 2. In a large bowl, beat the peanut butter and butter until light and fluffy.
Goopy! I used smooth peanut butter. Usually I will go with crunchy peanut butter, but I don't think it would have been good with this recipe.
Add the sugars and whip until combined. Add the eggs and vanilla and beat until smooth.
Brown sugar clumps. If you have any really solid pieces, break them up with a fork/spoon otherwise your mixer will end up throwing brown sugar clumps all over the bowl (or you).
Before adding the dry mix, it will be really good looking, but not thick.
Some people might even describe it as really wet.
Step 3. In a small bowl, whisk together the flour, baking powder and baking soda.
Step 4. Add the dry ingredients to the wet ingredients and mix until combined. The batter will be fairly thick.
She's right, the batter will get to be very thick. You can't beat it too much, so make it a little thicker than you think you'd probably need to. Beat at low speed for a while and then speed it up to a medium speed to make sure it's effectively mixed.
One thing to note:
if you don't have a dishwasher, you'll want to wash this stuff very quickly after we're done. Remember, we're working with peanut butter, so it will get crusty really quickly if you don't at least let it soak.
Step 4.5. Lick the beater.
Step 5. Pour/spread the batter into the prepared pan and smooth with a spatula.
Step 6. Bake for 30-35 minutes, or until the edges begin to pull away from the sides of the pan and the centre is set but not firm. Transfer the pan to a wire rack to cool completely.
I didn't take a picture of this, but there's no real way to get it evenly done, especially if you make a jelly roll pan's worth. So, give in to the fact that your sides will be a little crispy, but better to have the middle done and the side crispy than the side good and the middle too gooey.
But then it comes out and looks awesome!
Step 7. When the blondie is cool, prepare the butterscotch ganache. In the top of a double boiler over low-medium heat, stir the butterscotch chips just until melted. Remove from heat, stir until smooth and immediately pour over the cooled blondie.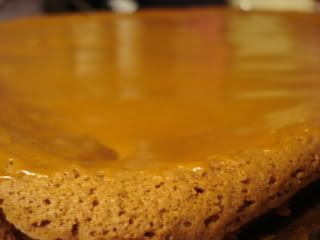 I didn't take a picture of the making of the ganache, but it's pretty easy. Don't have a double boiler? Simply put one saucepan in another saucepan (smaller into bigger) filled with boiling water. In the top saucepan, put your ingredients (cream and butterscotch chips in this case). Keep mixing but doing it this way will keep it from burning the bottom of the saucepan.
Step 8. Refrigerate until set. Cut into squares. Or diamonds. Hell, I don't care.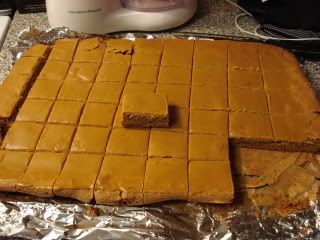 It makes a lot when you double the recipe, but if you have friends and people who like sweets, these will go quickly.
One other note:
Your pieces on the end will have these little weird shelves where they cooked over the side of the pan. If these really bother you, cut them off, but they taste good to me.
Verdict
: Delicious! If I had it to do over again, I'd probably make a little extra ganache and cover it more thoroughly, but a really easy, quick recipe that many small children at birthday parties would love.